July 19th, 2013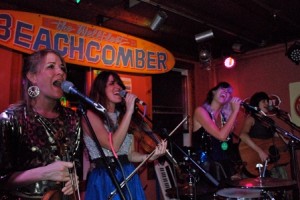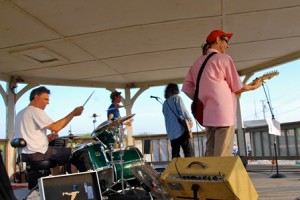 photos by Suzie Glover: from left, Ariel Parkington, Sarah Parkington, Nora Parkington and Rose Parkington; Lou Cataldo, Aaron Spade, Joey Spampinato and Johnny Spampinato
Imagine a bar with a jukebox that plays Chuck Berry, Bo Diddley, the Beatles and the Rolling Stones. Easy to picture a joint like that, right? Now imagine a jukebox that plays Leadbelly, Dolly Parton, Prince and Radiohead. It's a bit harder to picture what that bar would look like, but if you're musically adventurous, it's one you'd want to check out.
The Spampinato Brothers are the personification of the first jukebox, and the Parkington Sisters recreate the second one. Both Cape-based bands performed Thursday night, and a few lucky folks were in the audience for both shows.
Born in the Bronx (but we'll forgive them for that), Joey and Johnny Spampinato are among the Cape's rock royalty. Bassplayer Joey was a founding member of NRBQ and has performed with Berry, Keith Richards and Eric Clapton. Guitarist Johnny is a member of the Incredible Casuals and was a longtime member of NRBQ. Aaron Spade of the Casuals joins them on guitar. At Thursday's show at the gazebo at Nauset Beach, Lou Cataldo, who's played with the Freeze and a zillion other Cape bands, sat in on drums.
The Spampinato brothers play good old, power-pop rock 'n' roll – kind of like the great British group Rockpile but with some American grittiness thrown in. (And if you're not familiar with Rockpile, whose only studio album, the classic "Seconds of Pleasure," came out 33 years ago, well, it's never too late to catch up.)
In Thursday's show, they played a mix of Spampinato Brothers originals ("Let Him Think on That" with Everly-Brothers-by-way-of-the-Beatles-style harmonizing and the goofy "A Bear Is a Bear Is a Bear"), some NRBQ gems ("It's a Wild Weekend" and "That I Get Back Home") and classic covers (Frankie Ford's "Sea Cruise," Berry's "Johnny B. Goode" and the Beatles' "You Can't Do That").
The Spampinato Brothers show was part of the Arts Foundation of Cape Cod/TD Bank series of free concerts, which continue at 6 p.m. Mondays-Fridays in eight towns through Aug. 1.
Two towns over and a couple of hours later, the Parkington Sisters performed a hometown throwdown at the Wellfleet Beachcomber.
Opening for the Parkingtons was the Sacred Mounds, a hipster-rock duo that's a weird combination of mostly Ween and a little White Stripes. Their set included a song about the pro wrestling world of 1986.
Classically trained musicians, the Parkingtons perform what's been described as "indie-folk." That's not quite right. On stage, they are less restrained and less delicate than they can be on CD. They rocked. This is, after all, a band that has toured with the Dropkick Murphys, a Boston-based Celtic-punk group.
The Parkingtons' is not the traditional rock lineup. They performed violin (Ariel, Sarah and Nora), viola (Sarah and Ariel), electric guitar (Sarah and Rose), acoustic guitar (Rose), percussion (Nora, Rose and Sarah), keyboards (Rose and Ariel), strap-on Roland synthesizer (Rose and Nora), solo vocals (all of them) and harmonizing vocals (all of them).
"Cruel," a gonzo, funky country ballad, was an early highlight. The earnest folk ballad "Me Oh My" was made extra intense by Ariel and Nora's violin work. "Drowning in Blue" sounded like what would have happened if Sinead O'Connor in her primal rock days had tried to make a disco song (and succeeded).
The second half of the show leaned more on covers, including Parton's "Jolene," Dan Auerbach's "Trouble Weighs a Ton" and Leadbelly's "In the Pines," which started more like the "O Brother, Where Art Thou" sirens than Kurt Cobain's tortured version, but slowly ratcheted up in tension.
Younger sister Lydia, a former member of the group, came on stage near the end of the show to sing lead on "Sailor," which was delivered as part country stomp, part sea chantey.
The Sacred Mounds joined in for the last few songs, including the Parkingtons' "Deerheart," a ballad that featured six vocalists; Prince's "Controversy," which was somewhat sloppy but still stellar; and Radiohead's "Karma Police," a show-closing audience sing-along.
By year's end, I'll have seen some bigger names perform, but I doubt I'll have seen a better show.